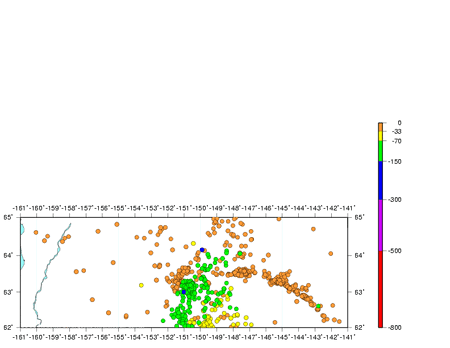 Central Alaska, United States is the Flinn-Engdahl region number 1. It is part of the seismic region 1 (Alaska – Aleutian Islands Arc). The region is rectangular and reaches from 161° to 141°W and from 65° to 62°N. It verges on Southern Alaska, United States to the south, on Southern Yukon Territory, Canada to the east and on Northern Alaska, United States to the north and to the west. It is seismically active, the last major earthquake struck it on November 3, 2002, with a magnitude of 7.9. The area lies within the fold and thrust belt of the Alaska Range. Earthquakes are rare but can reach high magnitudes. They occur usually in shallow depths and therefore bear a high potential of damage. However, since the area is very poorly populated, population exposures are mostly very low.
Cities/towns in the region
Edit
Listed are all places with more than 500 inhabitants.
Fairbanks AK (31,000)
Delta Junction AK (900)
Unalakleet AK (750)
Galena AK (600)
Earthquake list
Edit
Earthquakes in the FE region 001 (Central Alaska, United States) in 2008–2017
Only those years are listed where earthquakes of at least M5.5 occurred.
Literature
Edit
Young, J.B., Presgrave, B.W., Aichele, H., Wiens, D.A. and Flinn, E.A.: The Flinn-Engdahl Regionalisation Scheme: the 1995 revision, Physics of the Earth and Planetary Interiors. vol. 96, p. 223-297, 1996.
Ad blocker interference detected!
Wikia is a free-to-use site that makes money from advertising. We have a modified experience for viewers using ad blockers

Wikia is not accessible if you've made further modifications. Remove the custom ad blocker rule(s) and the page will load as expected.