Solomon Islands 2010
Date (local)
January 4, 2010, 09:36
Magnitude
7.1 Mw
Depth:
25 km
Epicenter location
295 km WNW of Honiara, near Tetepare island
Tsunami:
yes
Casualties:
7 missed
On Monday, January 4, 2010, at 9:36 AM local time (Jan. 3, 22:36 UTC), an earthquake with a magnitude of 7.1 occurred 295 km westnorthwest of Honiara, Solomon Islands, near Tetepare island. The earthquake and the resulting tsunami caused some damage to houses, and seven people were missed. However, there are no reported casualties.
The place where the earthquake hit is on a subduction zone where the Australian plate dives under the Pacific plate.
Significant shocks
Edit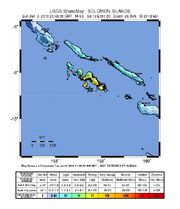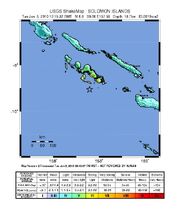 Only shocks with a magnitude equal to or higher than 5.0 are listed. Magnitudes from 6.0 are marked in bold. The main shock is colored in green.
| Date | Time (UTC) | Magnitude | Epicenter | Depth (km) | Additional information |
| --- | --- | --- | --- | --- | --- |
| 03 Jan | 21:48:05 | 6.6 | 8.743°S, 157.477°E | 26 | tsunami of 2 cm height recorded in Honiara |
| 03 Jan | 22:36:28 | 7.1 | 8.799°S, 157.347°E | 25 | tsunami of 3 meters height recorded in Rendova island |
| 03 Jan | 22:50:09 | 5.0 | 8.72°S, 157.47°E | 35 | |
| 04 Jan | 01:47:19 | 5.4 | 8.95°S, 157.76°E | 23 | |
| 04 Jan | 02:08:12 | 5.2 | 8.92°S, 157.62°E | 37 | |
| 04 Jan | 04:17:51 | 5.6 | 8.917°S, 157.606°E | 30 | |
| 04 Jan | 05:41:19 | 5.1 | 9.06°S, 157.75°E | 35 | |
| 04 Jan | 07:39:03 | 5.3 | 8.62°S, 157.26°E | 35 | |
| 04 Jan | 11:28:22 | 5.8 | 8.379°S, 157.113°E | 21 | |
| 04 Jan | 14:24:22 | 5.3 | 8.47°S, 157.14°E | 35 | |
| 04 Jan | 18:56:06 | 5.0 | 8.82°S, 157.77°E | 6 | |
| 04 Jan | 23:25:09 | 5.1 | 8.71°S, 157.30°E | 41 | |
| 05 Jan | 12:15:32 | 6.8 | 9.005°S, 157.582°E | 10 | tsunami of 30 cm height recorded in Honiara |
| 05 Jan | 12:25:31 | 5.4 | 9.05°S, 158.05°E | 35 | |
| 05 Jan | 12:36:18 | 5.3 | 9.00°S, 157.89°E | 35 | |
| 05 Jan | 13:10:02 | 5.3 | 8.88°S, 157.63°E | 35 | |
| 05 Jan | 13:11:43 | 6.0 | 9.050°S, 157.892°E | 35 | |
| 05 Jan | 13:13:02 | 5.7 | 8.890°S, 158.032°E | 23 | |
| 05 Jan | 13:56:56 | 5.2 | 8.99°S, 157.72°E | 43 | |
| 06 Jan | 04:29:56 | 5.1 | 7.86°S, 157.45°E | 33 | |
| 06 Jan | 05:22:03 | 5.0 | 8.93°S, 157.59°E | 35 | |
| 08 Jan | 04:29:08 | 5.2 | 8.80°S, 157.62°E | 23 | |
| 08 Jan | 13:00:05 | 5.1 | 8.74°S, 157.81°E | 35 | |
| 09 Jan | 05:51:30 | 6.2 | 9.131°S, 157.626°E | 12 | |
| 09 Jan | 07:04:31 | 5.3 | 9.18°S, 157.71°E | 10 | |
| 09 Jan | 11:59:16 | 5.0 | 9.15°S, 157.73°E | 35 | |
| 18 Jan | 22:31:00 | 5.3 | 8.78°S, 157.54°E | 37 | |
| 18 Jan | 23:11:06 | 5.2 | 9.06°S, 157.90°E | 33 | |
| 18 Jan | 23:12:43 | 5.0 | 8.74°S, 157.89°E | 33 | |
| 19 Jan | 00:17:00 | 5.1 | 8.95°S, 158.04°E | 35 | |
| 19 Jan | 00:17:48 | 5.5 | 9.00°S, 158.07°E | 39 | |
| 19 Jan | 01:00:22 | 5.1 | 8.86°S, 157.78°E | 31 | |
| 24 Jan | 14:18:59 | 5.5 | 9.180°S, 157.756°E | 10 | |